Hooks 02 Nos.
Technical Specifications
To Detect Torn/Rupture Belt Condition

Sai Control System offers new generation Belt Rupture/Rip switch which is based on advanced micro controller technology. Belt rupture Switch consist of controller and optical transmitter and receiver for sensing. Sensor to be mounted below the belt of the conveyor. If the belt is ruptured or ripped then the conveying material will fall in the sensing area of the sensor and it will sense the falling material and the controller will trip the belt conveyor.
Power Supply : 110/ 230 Volt
Enclosure : Cast Aluminum
Contact : 1c/o/2c/o
Output Indications : Through LEDs
Restart : Automatic / Manual
By Pass : Provided for bypass
Max Range : Adjustable up to 3 mtrs
Operating Temp. : up to 55 Degrees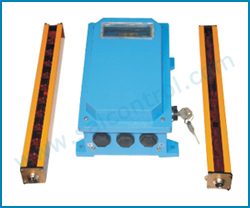 Feature


Easy to install & may be mounted in any position with non critical alignment between sensors.

Switches are provided for blanking/by-passing individual channels.

Belt rupture sensor operates on micro controller based cyclic scanning

Photo-electric infra-red techniques.

Various sensing range are available from covering 100mm to 1000mm conveyor width.

Use of solid state components & special construction technique ensures that sensors is not affected by normal vibrations & shocks.

For sensors, connections are provided through plug in connectors.

Self checking Circuitry continuously monitors failure of any of the beam in the systern and stops the conv. if failure detected.

LED Indications are provided for status indication of each channel

LED Indication for output and sense.

Auto/Manual selection

Adjustable nuisance tripping delay